Le dernier des douze boss qui se seront attaqués à Hybéria lors de l'année écoulée a enfin débarqué, et il vous faudra empêcher ce seigneur des enfers de semer le chaos dans la région de Kheshatta. Cette nouvelle animation de serveur, sera disponible jusqu'au mardi 12 Novembre. Si vous aviez déjà vaincu les onze boss précédents, venir à bout de ce dernier ennemi vous donnera accès à la première récompense légendaire d'Age of Conan, un manteau au pouvoir sans égal !
Plus d'informations sont disponibles dans l'annonce à la suite de cette news.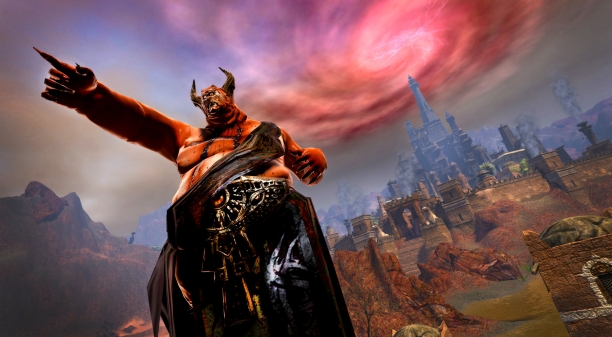 Citation
Le seigneur des enfers revenu à la vie est là ! Gagnez votre manteau légendaire !

Le dernier chapitre des douze signes est enfin arrivé ! Le monstrueux seigneur des enfers revenu à la vie a envahi Kheshatta, et c'est à vous d'empêcher la destruction de la région.

Cette animation de serveur commence aujourd'hui, et elle durera jusqu'au mardi 12 novembre.

Joignez-vous à de nombreux autres joueurs pour participer à cette gigantesque animation de serveur, et terrassez ce boss pour gagner des récompenses épiques.

Tout le monde peut prendre part au combat, il faut juste être assez courageux pour braver les périls du désert et rejoindre Kheshatta.

Ce boss est le dernier des douze qui n'ont eu de cesse d'attaquer l'Hyboria cette année. Et si vous avez lutté contre les onze précédents et que vous venez également à bout du seigneur des enfers revenu à la vie, une récompense légendaire vous attend !

Après avoir fini la quête, allez voir l'astromancien de Tarantia-la-Vieille. Il vous offrira le choix entre plusieurs manteaux légendaires, comme seuls les plus grands héros d'Hyboria peuvent en porter ! Tous sont très puissants et confèrent également un effet spécial aux coups fatals de leur porteur.

Félicitations ! La première récompense légendaire d'Age of Conan vous tend les bras !

Source